Bungoma District Hospital Laboratory, Kenya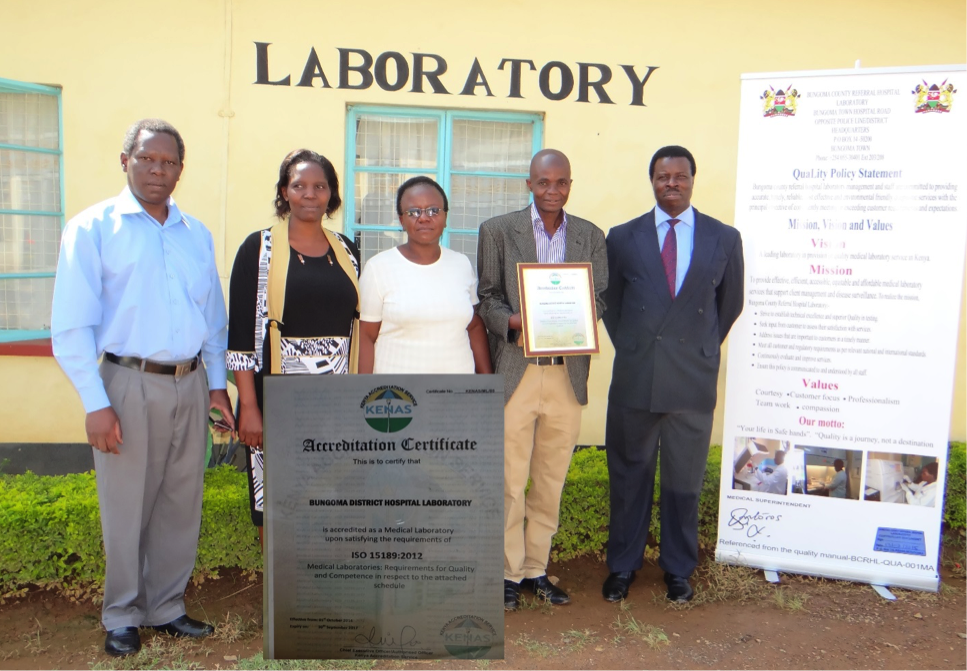 From left: Robert Mose (Hospital Health Administrator); Joan Wasike (Laboratory Manager); Beatrice Lungai (Laboratory Supervisor); Phidelis Maruti (Laboratory Quality Manager); Dr. Sylvester Mutoro (Hospital Medical Superintendent)
What was the hardest thing to do in order to get accredited?

Development of documents.
Changing staff attitudes and fostering a culture of quality.
Process control and method validation.
Root cause analysis.



What was the easiest?

Improvement associated with Facility and Safety (one of the 12 sections in the SLIPTA checklist).

What was the most important contributing factor to getting accredited?

Involving hospital management; identifying and engaging other stakeholders like procurement unit, maintenance unit, and nursing staff.
Commitment and team work.
A change of staff attitude.
Monitoring through regular internal audits.



What steps did you take?

Step 1 : Organized the laboratory, re-arranged the workstations, and removed clutter.
Step 2 : Developed the system (policies and procedures).
Step 3 : Trained staff personnel on the policies and procedures.
Step 4 : Monitored the implementation through scheduled internal audits.
Step 5 : Recognized personnel who adhered to the developed system/standards.
Step 6 : Reviewed the system to fix the gaps and implemented improvement projects to improve the system.
Step 7 : Applied for accreditation.
Step 8 : Continued with internal audits and improvement projects to maintain the standards.



What were the biggest mistakes you made?

Forgetting that mentorship and support provided by the partners could end.
At first not identifying personnel capabilities and utilizing them.



What is the best advice you can give to others?

Involving the top management, identifying your stakeholders, defining time commitment, and using a priority matrix are crucial in achieving and maintaining accreditation.
Planning and monitoring the progress is key!