Princess Marina Hospital Laboratory, Botswana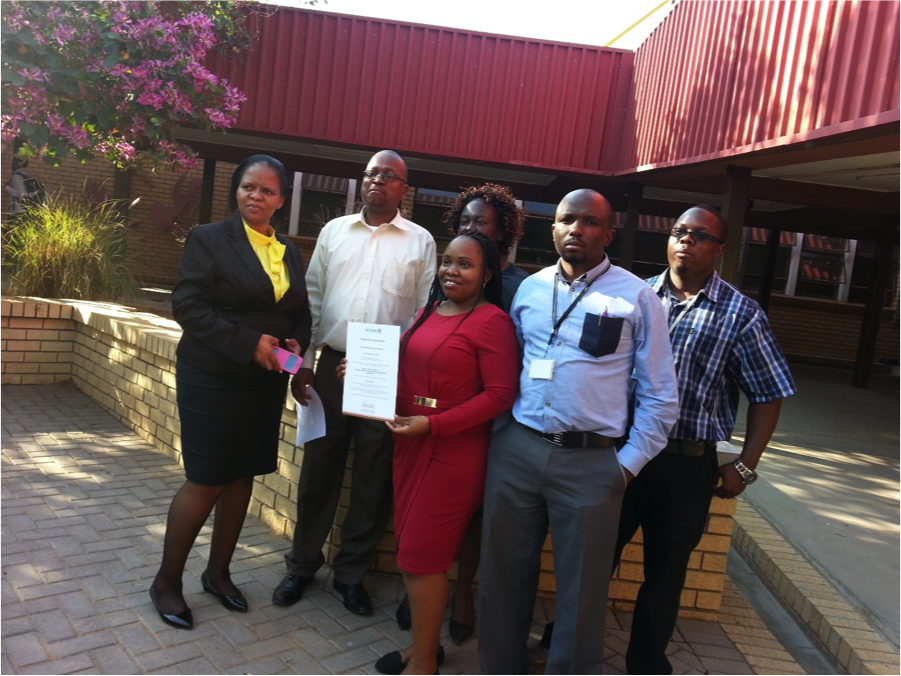 Back row from left: S. Johane (Quality Officer), T. Senosi (Laboratory Manager), L. Mudzikati (Head of Haematology), L. Masvingise (Deputy Quality Officer and Safety Officer)
Front row from left: B. Ngwako (Deputy Head of Chemistry), O. Chishawa (Head of Blood Bank)
What was the hardest thing to do in order to get accredited?

Quality Improvement Project in terms of time to complete them and understanding of the projects. We felt training should have been done onsite to cover all staff instead of selecting 2 people to attend SLMTA training at the Botswana Bureau of Standards.
Management commitment – in terms of availing resources.
Buy-in from clients – clinicians wanted their samples tested and had no concern for quality or safety. They wanted to come in holding samples in their hands and it was a challenge to make them understand the lab safety and quality requirements.
Time and resources required to close non-conformities.



What was the easiest?

Nothing was easy but communication within the lab – we understood each other.

What was the most important contributing factor to getting accredited?

Staff commitment – they were always available and willing to put in extra hours.

What steps did you take?

Strengthened the quality office – a Senior Officer was assigned to the quality office.
Started working on technical SOPs at the section level.
Began implementing the management procedures. Implementation was reviewed daily in a one-hour morning meeting.



What were the biggest mistakes you made?

Having too many consultants- they kept on cancelling/condemning each other's work, especially those who prescribed 'this is how you should do it' without checking for staff understanding.

What is the best advice you can give to others?

Always have a plan – it is the sure way to succeed.
Involve everyone from the beginning.