Sekgoma Memorial Hospital Laboratory, Botswana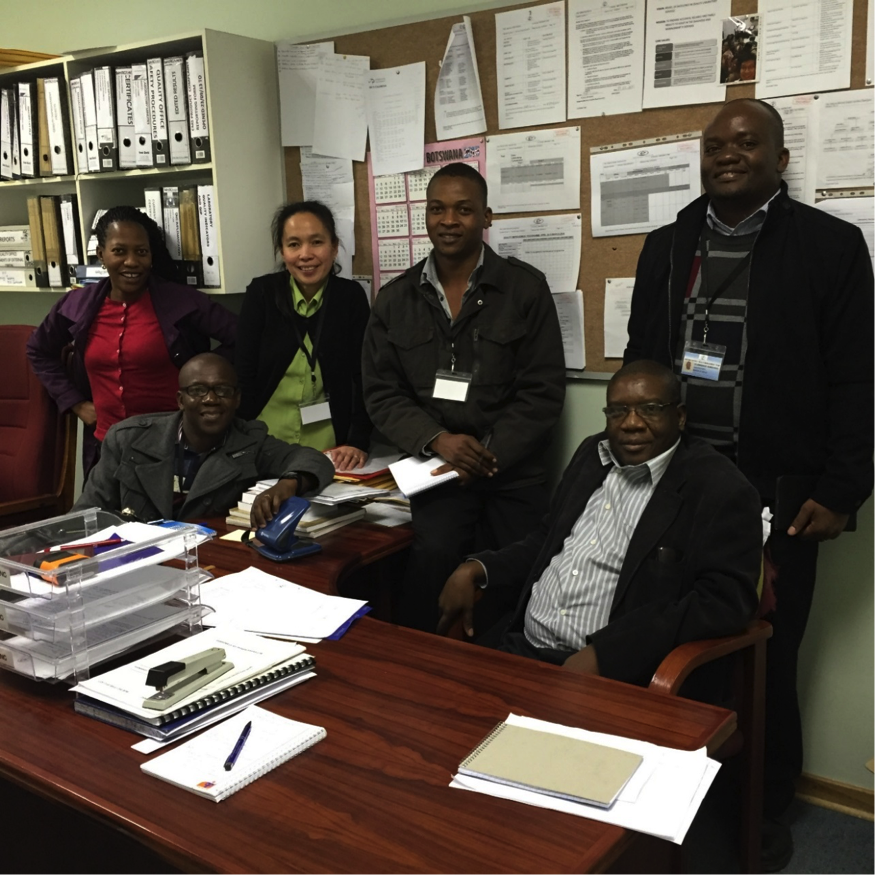 Standing from left: Mosetsanagape Modukanele (CDC-Botswana), Edna Caba Abiera (Deputy Laboratory Manager), Wonder Makhuza (Deputy Quality Officer), Clemence Simango (Safety Officer)
Sitting from left: Fredrick Samuel (Quality Officer), David Matema (Chief Medical Laboratory Scientific Officer, MOH)
What was the hardest thing to do in order to get accredited?

Staff attitudes and their resistance to change.

What was the easiest?

We had no problem having the staff members draft the technical SOPs. This is because in 2009, the laboratory manager made SOP development an evaluation criteria for staff performance assessment. This was before SLMTA initiation in 2010.

What was the most important contributing factor to getting accredited?

SLMTA. When we started SLMTA in 2010, our quality efforts began to have focus and direction. SLMTA taught us "how to" implement corrective action through improvement projects. All staff members were involved and each had a role in implementing the improvement projects. All laboratory personnel were trained and coached in-house on SLMTA by the laboratory manager, who was an official trainee in the SLMTA workshop series.

What steps did you take ?

Step 1 : We developed SOPs for both technical and system procedures
Step 2 : Bureau of Botswana Standards (BOBS) trained all staff members on ISO15189
Step 3 : We began monitoring quality indicators and occurrence management
Step 4 : Our laboratory was audited by BOBS and personnel from other laboratories to identify gaps between the system and the documented procedures. They found gaps in the system procedures, but not the technical procedures.
Step 5 : We began working on improvement projects to close the gaps identified in the audit.



What were the biggest mistakes you made?

We failed to monitor the day-to-day implementation – that is, checking to see if what was being done was according to the documented procedures. We did not know discrepancies existed until the first SADCAS inspection. We also wished staff had more exposures to the auditing process earlier.

What is the best advice you can give to others?

Changing staff attitudes is a continuous process. You have to constantly training them, reminding them, and involving them in all improvement projects. Benchmark with other laboratories that have achieved accreditation to inspire them. When we received the only 4 SLIPTA stars in Botswana, it was a big motivation booster.